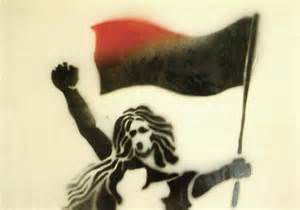 A l'annonce du refus, le 26 février 2015, de la justice française de libérer Georges Ibrahim Abdallah, la colère des membres de la Campagne internationale pour sa libération s'est exprimée devant l'ambassade de France à Beyrouth en ces termes :
Campaign for Release of Georges Abdallah :
"Until when will France keep appearing in an insolent image? Until when will PM Salam keep declining to meet us ?"
"We will keep condemning every French diplomate on Lebanon's soil and we tell the French ambassador that they will face further protests against their interests. To the newly nominated ambassador we say: France's accreditation papers must be the return of Georges Abdallah on your plane."
"We tell the resistance in Lebanon that Georges Abdallah must be on the top of your priorities."
"We tell all Palestinian resistance factions that Georges Abdallah struggled for Palestine and pointed his rifle at the Israeli and American occupations. We demand his release in any swap deal with the Zionist occupation."
- Jusqu'à quand la France présentera-t-elle une image insolente ? Jusqu'à quand le Premier ministre Salam refusera-t-il de nous rencontrer ?
- Nous continuerons à condamner tout diplomate français sur le sol du Liban et nous disons à l'ambassadeur de France qu'il va être confronté à d'autres manifestations contre leurs intérêts. A l'ambassadeur qui vient d'être nommé nous disons : les papiers d'accréditation de la France doivent être le retour de Georges Abdallah dans votre avion.
- Nous disons à la résistance au Liban que Georges Abdallah doit être en tête de vos priorités.
- Nous disons à toutes les factions de la résistance que Georges Abdallah a lutté pour la Palestine et a pointé son fusil vers les occupations israélienne et américaine. Nous exigeons sa libération dans tout accord d'échange avec l'occupation sioniste.
★ Et pour les arabophones, une vidéo